SPRING BLOSSOMS HERE: 2019 NCBF LOOKS AHEAD TO SPRING
Posted by Nora Strumpf on 31st Oct 2018
Festival announces key dates, initiatives, and official artwork by Simon Bull
Washington, DC [Oct. 26, 2018] – The National Cherry Blossom Festival leaders, DC officials, sponsors, and stakeholders joined Thursday evening at The Watergate Hotel for a preview of the 2019 National Cherry Blossom Festival (March 20-April 14). Festival officials announced new and expanded programming, and rolled out their new "[Spring] Blossoms Here" campaign, highlighting the many interpretations of attendees' unique Festival experiences.
The 2019 official artwork was unveiled (pictured below):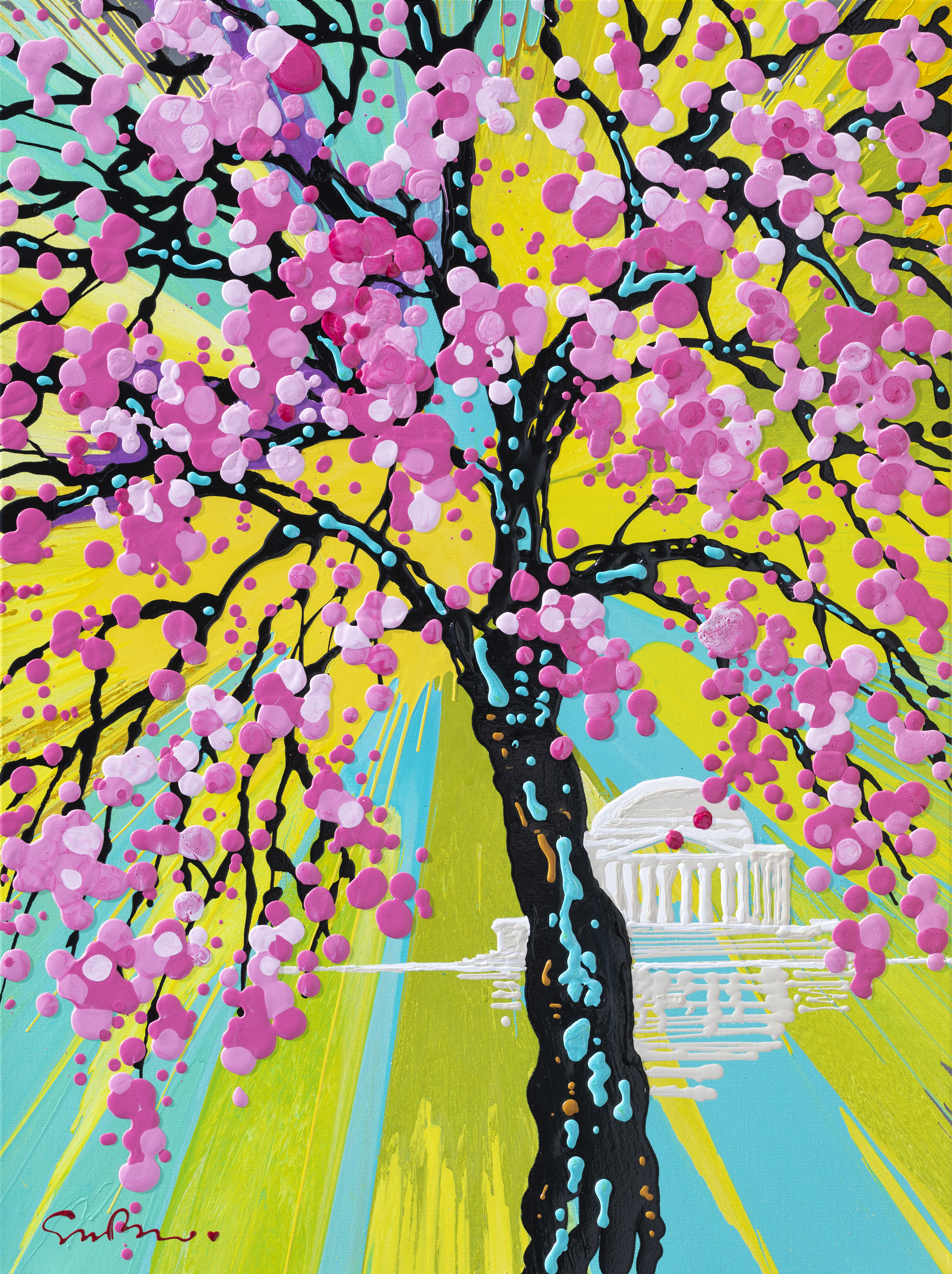 The artwork was created by Simon Bull, a British-born artist and recipient of numerous national and international awards. While his inspiration is broadly drawn from the natural world, it is the vivid use of color that defines his paintings. He has exhibited widely throughout the world, especially in the US, China, Europe and his native London. In 2007 he formed a working relationship with boxing legend Mohammed Ali, who selected him to chronicle his career through a series of portraits that included joint portraits of the champ and President Obama. The 2019 Commemorative Poster featuring the artwork is available for purchase now.
National Cherry Blossom Festival 2019 signature events include:
Friday, March 22: Pink Tie Party fundraiser presented by ANA at the Ronald Reagan Building and International Trade Center (early-bird tickets available Nov. 5)
Saturday, March 23: Opening Ceremony at the Warner Theatre
Saturday, March 30: Blossom Kite Festival on the Washington Monument grounds
Saturday, April 6: Petalpalooza at The Wharf
Saturday, April 13: National Cherry Blossom Festival Paradeâ presented by Events DC (grandstand tickets on sale now)
Dates TBD: Tidal Basin Welcome Area and ANA Performance Stage
Working in close collaboration with Festival partners, 2019 Premier Events include:
Saturday, March 23: SAAM Cherry Blossom Celebration produced by Smithsonian American Art Museum
Saturday, April 13: Sakura Matsuri Japanese Street Festival, produced by the Japan-America Society of Washington DC
Saturday, April 14: Anacostia River Festival produced by the 11th Street Bridge Park
Top sponsors to date were recognized, including Events DC, ANA, DowntownDC Business Improvement District, Trade Center Management Associates (a Drew Company), and the Ronald Reagan Building and International Trade Center
Recently, the Festival won 14 top industry awards from the International Festivals and Events Association (IFEA). The Festival came in first place (Gold) in five categories, and second place (Silver) in the esteemed Grand Pinnacle Award category, considered a top industry honor.
The National Cherry Blossom Festival is one of the world's great celebrations of spring. The 2019 Festival, March 20 – April 14, includes four weeks of events featuring diverse and creative programming promoting traditional and contemporary arts and culture, natural beauty, and community spirit. Visit nationalcherryblossomfestival.org or call 877.44.BLOOM for more information, or check out Facebook (CherryBlossomFestival), Twitter (@CherryBlossFest), and Instagram (@CherryBlossFest).